Travel back in time with the Tnfrhs 32 refridgerator cars. This "cool guy" was built from 1936 and was a backbone of German freight traffic for many decades. In 1981 this car travelled down the tracks for the last time. The cars underwent several modifications and overhauls during their lifespan and they were used to transport all kind of perishable goods, such as fish, fruits and meat. Although the cars have overlived her intial lifespan, don´t get fooled by their age: The digital model uses many new and modern materials to create the most realistic appearance possible. Newly built collars and many difficile details complete the prototypical look. Two scenarios for the "Koblitz Mountain Reloaded" are included. The cars are also equipped with custom sounds and rear end lights.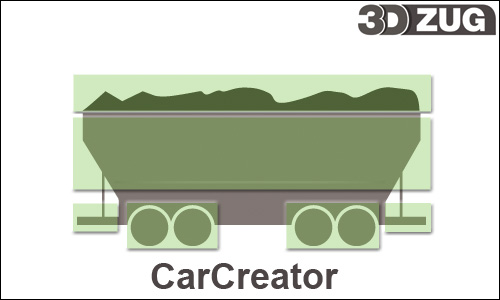 Thanks to our popular 3DZUG CarCreator, it is possible to customize the Tnfrhs 32. Besides the DB and DR version, the cars can be used to transport many different beers, so there surely will be no boredom. A 3D template is inclueded to give skilled users the opportunity to create their own liveries. The cars also offfer different colour variations. More than 130 variations are possible.



Start your journey back in time today!
Key features:
Tnfrhs Refridgerator car, highly detailed
White, Grey, Brown and Green variations
Different loads: Seefische (Sea Fish), Helbigs Dunkel, Elbe Bier, Issumer Pils (Thanks to "Zaunpfahl"), Bananen, Nahmdorfer Schädelspalter and much more.
CarCreator for randomized loads (130 variants)
DB and DR variants
Animiated brakes
Three different texture quality levels included (low, medium, high quality)
Detailed lettering
Accurate sounds
Quickdrive Consists for: DTG BR 155, 189 232, Taurus, vR BR 232, vR BR 189, vR BR 151
Optimized AI version
Winter textures with ice and snow
Repaint template
Two scenarios fotr the "Koblitz Mountain Reloaded" included
Dateigröße ca. 80 MB
| | | |
| --- | --- | --- |
| CarCreator | Rear end light | Custom sounds |
System Requirements:
Train Simulator
optional: Im Köblitzer Bergland Reloaded (to play the included scenarios)